WHIT FRIDAY VIDEOS NOW ONLINE UNDER MEDIA | VIDEOS
Despite terrible weather conditions, Fulham Brass Band had a great day out at the annual Whit Friday march contests in the villages of Saddleworth (near Manchester) on 5th June 2009.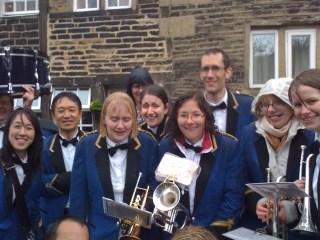 In what was the Band's first ever visit to the world-famous event, we managed to play at 6 villages during the afternoon and evening, performing Knight Templar on the contest platform and marching through each village to the theme from the Police Academy films.
Although the weather was the worst in Whit Friday memory, everyone enjoyed the day and the Band achieved some very respectable results, competing against bands of all standards from all over the UK.
Our results were:-
| | |
| --- | --- |
| Delph | 62 out of 80 |
| Denshaw | 37 out of 51 |
| Dobcross | 24 out of 59 |
| Friezland | 16 out of 48 |
| Greenfield | 32 out of 62 |
| Scouthead | 38 out of 63 |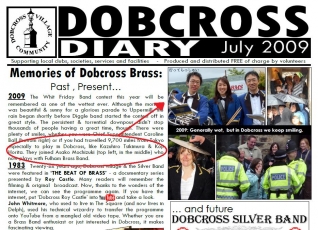 The Band welcomed friends old and new who joined us to play on the day - including two players who flew in from Jersey and two more all the way from Japan! Our former conductor, Paul McLaughlin, made his way down from Scotland and a number of other players from local bands also made the trip with us to join in the fun.
The following day, the Band made up for having kept the hotel landlady at the bar until the wee small hours by performing a Saturday lunchtime concert at our base, the Grains Bar Hotel near Denshaw. Although the rain again intervened to force us indoors, we entertained hotel guests and Northern friends and family of the Band with a two-hour set including film music, lyrical solos and brass band classics.
Having broken our Whit Friday duck, the Band is now eagerly anticipating next year, when we have no doubt that the sun will be shining!