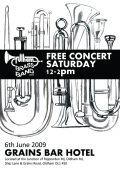 For the first time in its long history, Fulham Brass are planning to attend the annual Whit Friday Marches in Saddleworth on Friday 5th June 2009.
In the early afternoon of Saturday 6th June, the band will perform a free concert outside the hotel where we are staying. The weather promises to be glorious and the location is picturesque so get yourself along to hear this fine London band play a selection of your favourite tunes! Often described as 'the greatest free show on earth' the Whit Friday Marches are a brass band extravaganza in the villages of the West Pennines.
Competing for a total prize fund of around £36,000 over 100 bands will follow a route around 12 villages on the afternoon and evening of 5th June. In each village competing bands will be required to play a short street march followed by a standing contest march of thier own choosing. Each band will be scored by an adjudicator and the best performances on the night will be rewarded.
Fulham Brass (and a few invited friends) have chosen to play a comedy arrangement of 'Police Academy' for the street march followed by the ever popular 'Knight Templer' for the contest march. 
What will we play?
Knight Templar – Allan

La Danza – Rossini

A Time for Peace – P Graham (horn solo)

Fanfare and Flying theme (from ET) – John Williams

The Irish Blessing – Bacak

Gopak – Mussorgsky

Rusalska's Song to the Moon – Bizet (cornet solo)

Finale from Faust
Simoraine – Barraclough

Romance from 'The Gadfly' – Shostakovich

Radetsky March – Strauss

Star Dust – Carmichael (trombone solo)

Harry Potter and the Prisoner of Azkaban – John Williams

For the Love of a Princess – Horner (flugel solo)

Danses Polovtsiennes – Borodin

Doyen – Goff Richards
Links
The Grains Bar Hotel (venue for concert on Sat 6th June 12-2pm)
The official Saddleworth Whit Friday website