On Saturday 21st March, Fulham Brass competed in the regional qualifiers in Stevenage and came 4th in a field of 15 similarly ranked bands.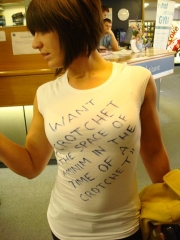 The test piece was 'The Once and Future King' by Andrew Baker and the band had lots of fun preparing the piece over the last 4 weeks.
After a fine performance off a number 11 draw, unfortunately the band didn't quite make it into the prizes. The band had hoped to qualify in order to represent the London and Southern Counties area in Harrogate in September, but the remarks made by the adjudicator and audience members who heard the performance were all very complimentary.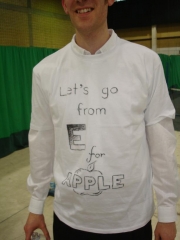 After the performance the band members had some fun by revealing specially designed t-shirts containing some of the phrases the bands' MD, Simon Jones, frequently says in rehearsal! Then it was off to the bar for some refreshment and later into London for band curry.
This result represents a consistency that now exists within Fulham Band. Our last 3 contests have seen placings of 4th, 3rd and now 4th again which speaks for itself in terms of how fast the band are improving. 
Here is what well respected brass band website 4barsrest.com said about us:
Worked very hard

Fulham worked very hard at the opening, producing an effective pianissimo in bar 6, although there were intonation problems later between flugel and solo horn. It also seemed a little sluggish at times, and the semiquavers in E could have done with a little more separation. 

The second movement got off to an excellent start, and the basses whispered out their parts very effectively. The Toccata was well-defined, with much made of the contrasts in dynamics and attack, another performance that allowed the music to speak for itself. It was definitely in contention, and on another day could have come higher than the 4th place it was given.
Section 3 results
Saturday 21 March
Draw time: 9.00am
Commences: 10.00am
Adjudicator: Paul Cosh
Results
1. St. Sebastian Wokingham (L. Woodward), 10
2. Hungerford Town (T. Crouter), 15
3. Waterbeach Brass (J. Utting), 4
4. Fulham Brass (S. Jones), 11
5. Hitchen (C. Patterson), 1
6. Betteshanger Welfare (S. Cutting), 3
7. Tadley Concert Brass (P. Chapman), 14
8. Chalgrove (M. Pegram), 13
9. BAE Systems (K. Woodger), 8
10. Hangleton (M. Pollard), 7
11. Croydon Brass (P. Martin), 2
12. Woodbridge Excelsior (G. Shaw), 9
13. Watford (R. Graves), 12
14. Great Yarmouth Brass (S. Philpot), 5
15. LBG Brass (I. Stewart), 8
Top 2 Qualify