Fulham were one of 89 bands to head up to Skegness for the 2009 Butlins Mineworkers Championships.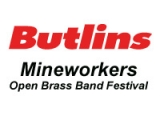 The band competed against twelve others in the 3rd section competition, playing
Haydock Variations
by
Stuart Pullin
. Although perhaps not achieving quite the performance the band knew they were capable of, they still produced a solid and musical performance, and were rewarded with third place.
Here is what 4barsrest said about our performance:
….the band did pull out a pretty decent show under Simon Jones (who later played first horn for the Redbridge Band) that was stylish and balanced, if not always 100% secure. There were neat contributions from the flugel and euphonium in particular, but just a touch more consistency may well have seen them come even higher than their well deserved third place.
Overall it was a great weekend for London bands, with Fulham joining 2nd section winners East London Brass and Championship section winners Redbridge Brass.
The result gives the band great confidence going into the Areas in March.
You will find a selection of photos from this event here
Results
The full results of the 3rd section were:
| Third Section | Draw | Result |
| --- | --- | --- |
| Shirebrook MW Unison | 7 | 1 |
| Stamford Brass | 5 | 2 |
| Fulham Brass | 9 | 3 |
| Hitchin Band | 3 | 4 |
| Garforth Brass | 10 | 5 |
| West Yorkshire Police | 6 | 6 |
| Pemberton Old JJB (B) | 1 | 7 |
| Dunstan Silver | 11 | 8 |
| Waterbeach Brass | 2 | 9 |
| Kirkby Colliery Welfare | 8 | =10 |
| The Watford Band | 4 | =10 |
| MacTaggart Scott | W | W |