The band is sad to see William Mellor step down as Principal Eb bass player and band secretary due to a family relocation to Dorset.Will is a popular and extremely capable player who worked hard for the band in role as band secretary. His final concert with the band was Parsons Green Fair on 5th July.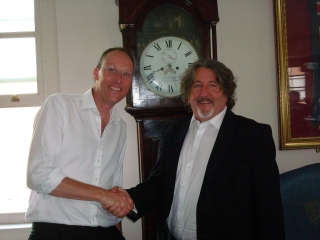 On 10th July, Will joined the band for a final practice in the British Legion club. The conductor of the band, Simon Jones, thanked Will for all the help and support he had shown the band during a difficult time when the band were advertising for a new Musical Director. The band joined with Will at half time break for a champagne toast and again after rehearsal for farewell drinks.
Fulham Brass Band wish Will and his family all the best for the future.